---
20V 'Blacktop' Project - Day 19
The engine wiring harness is in it's last stage. Just 1 more wire to run for the cooling fan relay. Dummy me didn't realize this when I ran the other 3 wires up to the front of the car. Oh well, I've got another slot in my custom connector. I'm also thinking of putting the exhaust temp sensor back in place. May as well, while I have everything on my work bench. That shouldn't take long to do, one evening after work.
Anyhow, here's a pic of how everything is on the end of the engine harness. There are 2 connectors that interface to the body harness. All connections take place in the driver's side of the trunk. I eliminated the 2 grey connectors from the fuse block that connected to the engine harness inside the engine bay. The body harness' length will have to be shortened. All do this after I get the car running of course.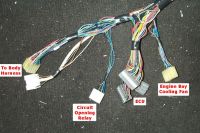 Here's the 20V Circuit Opening Relay. This will mount just like stock 16V to the back of the ECU in the trunk.

New oil pressure sensor. The 20V comes with just an idiot light sensor, so I replaced it with a stock MR2 one to work with its gauge,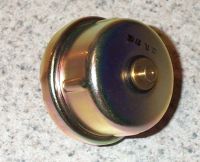 Battery relocation kit from Summit Racing. The battery box is huge! I'm going to cut it in third to work with the small Trueno battery.
Various tranny pieces reassembled onto the tranny. Everything except for the shift fork and throwout bearing are attached. I found out the clutch & flywheel I ordered were the wrong size for the C56. I'm waiting for the right parts to come in.
The engine bay was cleaned and masked off for a fresh coat of Krylon spray paint:
Here's the finished product with all the newspaper and masking tape removed.
Close up of the engine bay fan which was removed and cleaned. Also the insulation and various hoses and lines along the firewall were cleaned.
The new Carl Crawford solid brass shifter bushings were installed as well: