---
20V 'Blacktop' Project - Intro
Thanks go out to Bill Strong for informing the MR2 community about the availability of a '97 Toyota Sprinter Trueno which contained a 4AGE 20V 'Blacktop' engine at Jarco, Inc. and putting me even more in debt! :) I had originally planned on going with "just" an early 90s 20V 'Silvertop', but thought what the hell, it's only 5 years old, 30,000 miles. It's worth the extra dough. I was lucky that I contacted Jarco as quick as I did once I heard about it. I came to find out that many had called them about it, and had even tried to 'outbid' me on the price!
So, the half cut arrived at Jarco's warehouse in Atlanta (actually Canton, GA) in the middle of September 2002. A friend and I had been planning to go to the Petit Le Mans road race in Atlanta in the middle of October, so I called up my dad to see if he could meet us there to haul the half cut back to Austin. That would save me $400 in shipping costs. (Friend or I don't have a truck and a trailer to haul it with & dad had nothing better to do :)
Things went smoothly in Atlanta. Jarco's a great company to do business with. I highly recommend them on any importing needs, especially if in the Southeast US.
We got the halfcut loaded on the trailer, tied down, and off my dad went toward Austin. Friend and I were staying for the road race in Atlanta till Sunday, so met dad back at home then.
On Monday, Oct 14th, we unloaded the cut from the trailer: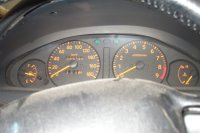 The only major thing wrong that's visibly wrong with the cut, is the driver's side (actually passenger's in the US) drive shaft. It had popped loose at the CV joint. There's also a dent in the oil pan caused by the loose axle. Here's a pic of that drive shaft: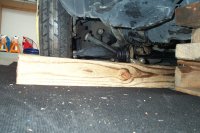 Here's the 'VIN' plate attached to the firewall.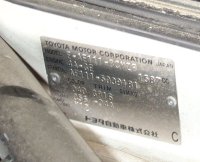 Here's a few more interesting things I found.
Japanese Automobile Federation sticker: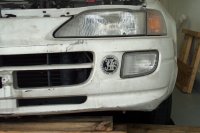 Fancy pedals! Oh yeah, these are going on my '2.
Also there's the original factory owner's manual in the glovebox which also contained some of the service history papers as well as some other goodies:
Sample of one of the 3 service sheets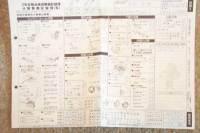 JAF membership card
Some sort of charm? If anyone has any interesting tidbits about this or the JAF card, send me an email about it.