Oxygen Sensor Replacement
Changing out the Oxygen Sensor is very simple repair. If your Check Engine Light illuminates intermittently while driving on the freeway, most likely it's an O2 sensor problem. Poor gas mileage could also mean a poorly functioning O2 sensor.
The replacement I used is a Bosch #12051, price was $49, and I purchased it from my local import auto parts store. FYI, this only works for the early model MR2s (85 - early 87) as they use a one wire sensor. Later years use a more expensive (and more effecient) 4-wire heated sensor.
Removal
1) The sensor is located at the bottom of the exhaust header, near where it joins with the downpipe. Two bolts hold the o2 sensor in place, 12mm I believe. Just undo these (see pics at very bottom for the location), and pull the old sensor out. Don't forget to remove the old washer that's in place.
2) Let the sensor hang free, and run your hand up the wire so you know where the plug is located. It's to the right of the distributor, see the circled area below. Unplug the connector from above, and remove the sensor.
Here's a comparison of the old versus the new:

A close up of the sensors:
Closeup of the plug: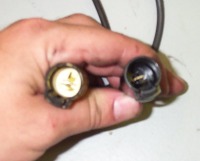 And here's the washers (replacement sensor comes with the washer):
Installation
1) From the top of the vehicle, plug in the new sensor, and then feed it down through being careful as to how the wire is run around all the hoses down there.
2) Insert new washer, insert new sensor, tighten bolts. Voila! Now here are pics of the new sensor installed:
3) Before you start up the car, it's a good thing to reset the ECU. Do this by pulling the AM2 fuse for about 40 seconds. This fuse is located near the battery: