Goodridge SS Brake Lines
Replaced my brake lines with stainless steel braided lines during my suspension project. Ordered them from Nopi.
1) Bleed out as much brake fluid from the system as you can.
2) Remove the 14mm banjo bolt holding the brake line to the caliper.
3) Remove the top of the brake line hose from the pipe fitting. First pull out the U clip (red) and then unscrew the union bolt (green) holding the hose to the line.
4) Remove the U-clip that holds the brake line to the strut assembly.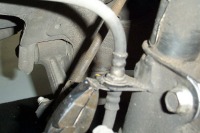 You can then remove the brake lines from the car.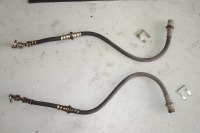 If you notice on each line, there are 2 E-clips. You need to remove both, to reuse on the new Goodridge lines.

5) Place one of the E-clips in the place indicated by the blue arrow.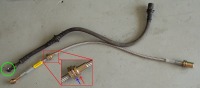 Install the other E-clip to the end of the line (opposite the banjo bolt).
6) Install the new line opposite of how you removed it.
Here's some pics for the front: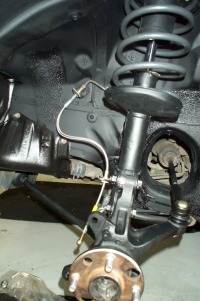 And the rear: